Network connection is established by installer during system installation & activiation (via an installer account in Abralife app). Alternatively, the home owner can configure the network in Abralife via Menu/Home/Central Unit (Linkbox+).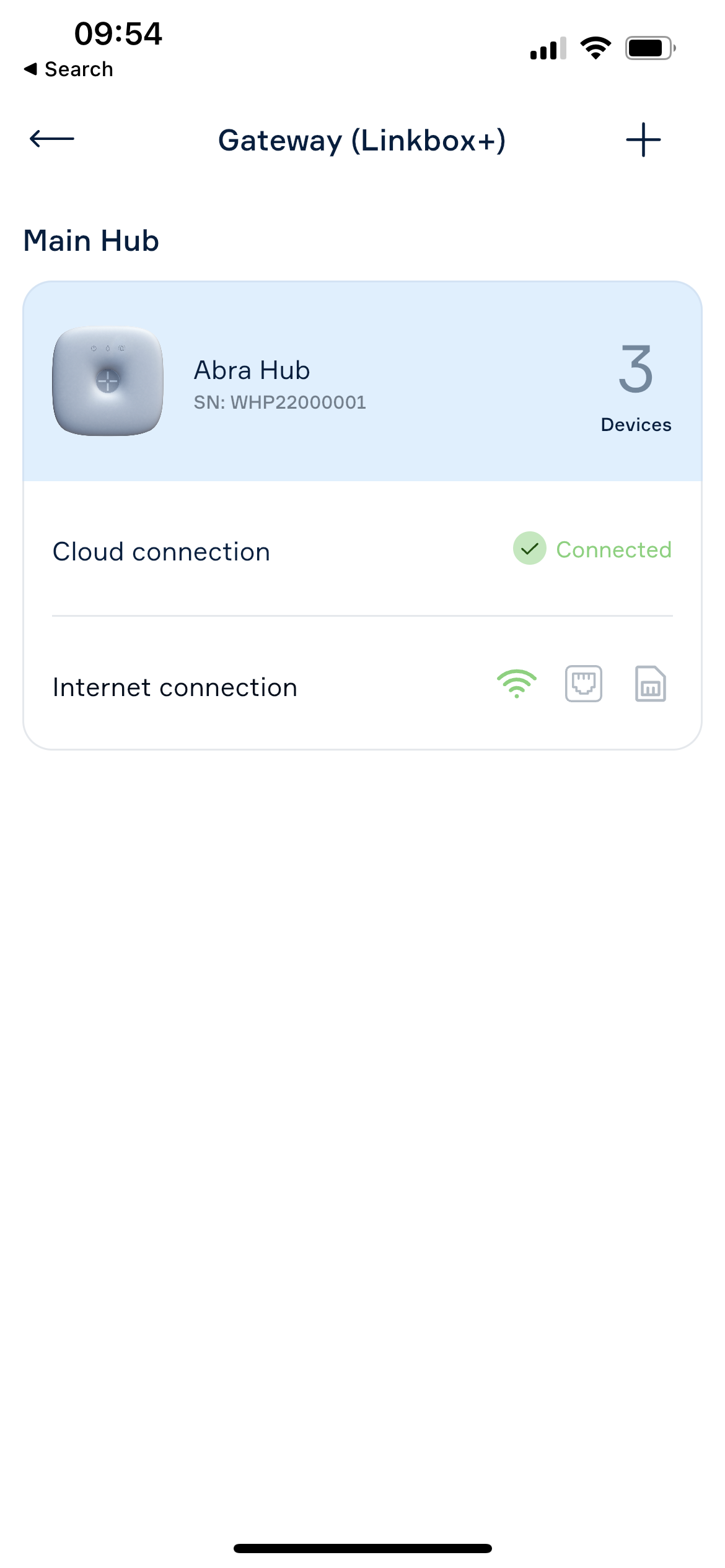 A fully connected system is indicated with an active Cloud connection and one green 'internet connection' icon (Wifi, Ethernet or SIM-card)
If you're having problems connecting the Linkbox+ to internet and Abra cloud services:
4G/5G connection:
Ensure the Linkbox+ supports 4G/5G communication (has a built-in Sim-card). See this article for help.
If it's the first time the Linkbox+ is powered up, it might take some time for the SIM-card to connect to the relevant service provider (up to 5 minutes). This is always the case if it's not a norwegian service provider (installed in other countries than Norway)
Check the 4G reception in the area where the Linkbox+ is installed (use your mobile phone)
Try to connect via WIFI if possible.
Contact Customer Service for help if you're still not able to resolve the issue.
Wi-Fi:
Linkbox+ does not support 5GHz wireless networks. Check that the network you are trying to connect is a 2,4GHz network. (Modern routers typically have 2 networks (SSID) you can connect - 5GHz and 2,4GHz. A 5GHz-network typically have 5GHz as part of its name (SSID))
Doublecheck that the correct SSID name and password is added.
Ensure you don't have excessive security settings in your router that prevents automatic connection.
Try several times if the search process runs out and fails. Restart the appen between the attempts.
Shut down you phone completely and start it again. Log into Abralife again and try once more.
Contact Customer Service for help if you're still not able to resolve the issue.
Ethernet:
Verify that the Ethernet cable is locked and secured into the "Ethernet" port of the Linkbox+
Verify that the Ethernet cable is locked and secureed into the home router/switch and that correct port is chosen (On a normal home router, the ports are typical marked as LAN1, LAN2 etc.
Try to connect another device with Ethernet connector (e.g. a laptop computer or a Smart TV etc.) Are they automatically connected to internet?

If no, check the LAN-configuration/setting of your router. Ensure your nettwork is configured for dynamic DHCP and that there is no security settings preventing connection
If yes, contact Customer Service for assistance.