System for detecting water leakage and automatic kitchen water supply shut-off.
A modern kitchen might have a lot of water connections (sink, dish-washer, refrigerator, coffee machine etc.) and is vulnerable for leakages and water spill. Without a floor drain and a water membrane, a leakage can cause severe damage to floor, walls and kitchen furniture.
This installation detects and prevents bigger leakages and it satisfies the Norwegian building regulation for water installations (TEK17 §15-5 - Requirement for automatic leakage detection and water shut-off system in wet rooms)
Water is detected by Water Sensor Tape and the Linkbox+ will automatically close the valve (1/2" or 3/4" mounted on the kitchen water intake) and the water supply. The system alerts the user immediately with sound, light and push-notification in the Abralife app.
The system also allows the user to control the valve manually (physically or via app) if needed (e.g. longer absence from the home or cabin).
The Waterguard valves perform an automatically exercise if not used in 7 days. This ensures a healthy and operational valve.
Solution description
Principle sketch

Connecting the system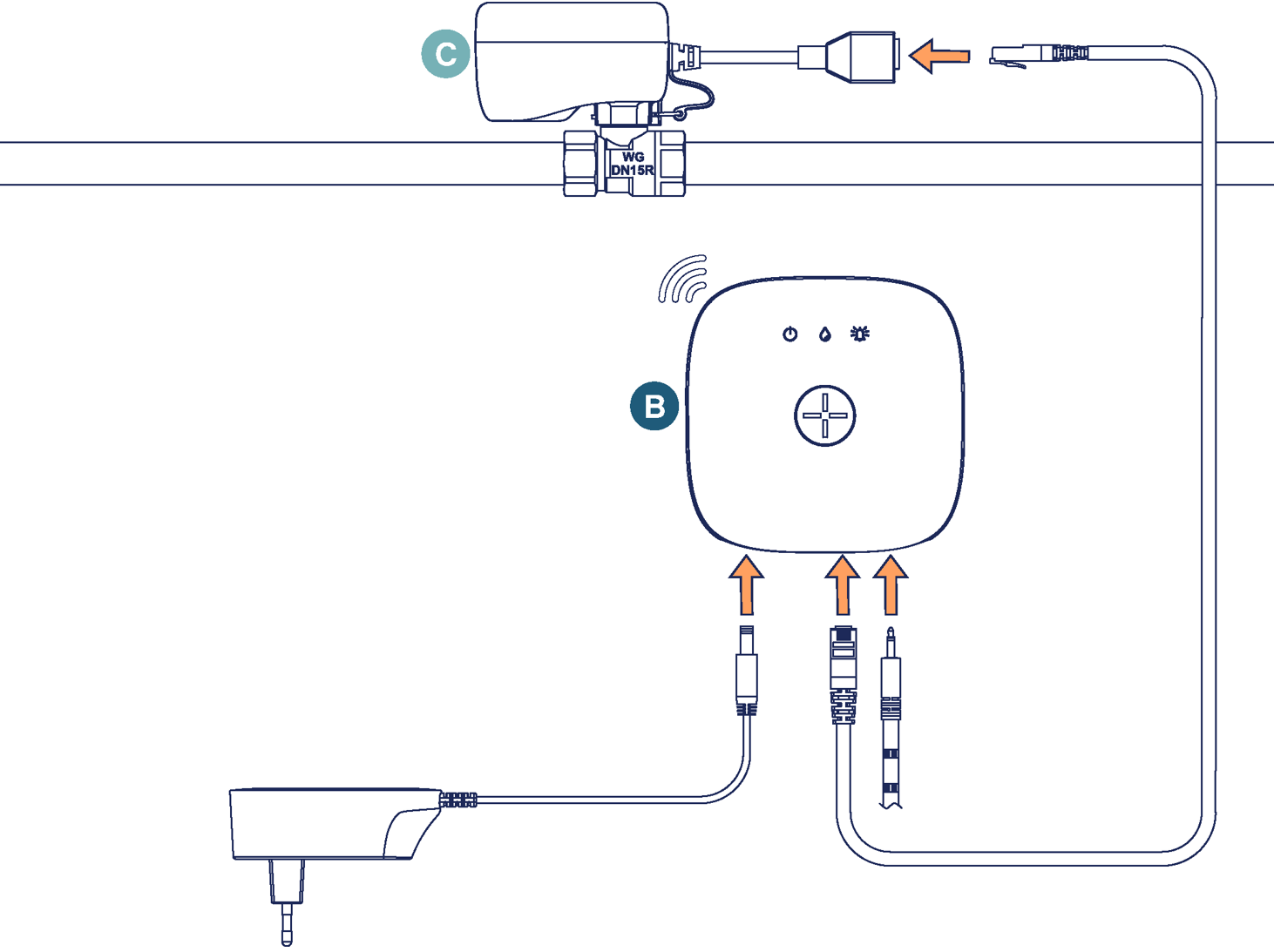 Description
| | | |
| --- | --- | --- |
| Icon | Product | Description |
| | Linkbox+ (Central Unit) | The Linkbox+ (B) is installed in a suitable place in or behind the kitchen furniture using the included bracket. The inluced Linkbox+ power adapter is inserted and the Cat6 cable is connected between the valve actuator and the Linkbox+ |
| | Ball Valve (1/2" or 3/4") | The valve (C) is installed by a authorized plumber on the kitchen cold-water intake. |
| | Water Sensor Tape | The self-adhesive Water Sensor Tape is connected to the Linkbox+ (3,5 mm Jack) and brought down under the furniture and fastened to the floor where any water is predicted to end up in case of a leakage. For the tape to be properly fastened, ensure the surface is clean before application. |
Additional information
Before the Linkbox+ (B) is mounted, ensure correct placement based on:
Distance to the valve (the Cat-cable included is 2 meters long. If not possible to install within 2 meters, the Cat-cable must be replaced with a longer (optional product)
Distance to power outlet (The power adapter cable is approx. 1,5 meter)
The coverage area of the Water Sensor Tape (The tape is 3 meter long and should cover the area where the risk of leakage is big)
PS! If the include Water Sensor Tape does not cover the full area (e.g. the kitchen has an kitchen island or the distance between the water-connected products is large), you can add wireless WaterSensor+ or extend the Sensor Tape. See chapter Additional Products and Options below for more information.
For detailed instructions about installation and use, see our Waterguard+ Installation and User Manual. You can also click on the article numbers below for more information about our products and components.
Product list
The solution described above can be installed with one of the following kits:
NOBB
Article name
Description
5648884

1/2" Waterguard+ WiFi

The valve fits 1/2" pipes.

The Linkbox+ connects to internet via WiFi & ethernet

5648891

1/2" Waterguard+ 4G

The valve fits 1/2" pipes.

The Linkbox+ connects to internet via WiFi, ethernet & 4G/5G. Includes ModBUS connector

5648885

3/4" Waterguard+ WiFi

The valve fits 3/4" pipes.

The Linkbox+ connects to internet via WiFi & ethernet

5648892

3/4" Waterguard+ 4G

The valve fits 3/4" pipes.

The Linkbox+ connects to internet via WiFi, ethernet & 4G/5G. Includes ModBUS connector
Additional products and options