If you have an ongoing water leakage and the valve(s ) doesn't shut off the water, locate the main water switch and shut the water off manually.
For systems with Danfoss solenoid valves:
Reset the alarm and then trigger a new alarm (by touching a sensorpoint with a damp cloth or similar). Check if you can hear a significant clicking sound from the valve as the alarm is triggered.

If a clicking sound can be heard, the electronics seems to be working. If the water is still not shut off, it is most likely caused by dirt or particles in the valve. The valve must be cleaned - see this video for instructions.
If a clicking sound is NOT heard, then the electronics are not working as it should. Check that the power supply is OK.

Contact Waterguard for assistance (or a local plumber if urgent need) if the problem consists.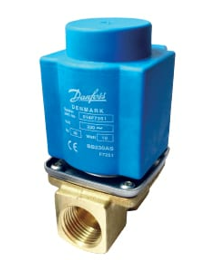 When an alarm is triggered, this valve will make a significant clicking sound. If you can hear this, but the water is still running, it might indicate a valve error. It could also be caused by dirt or particles inside the valve. If no clicking sound is heard, it might indicate problems with other Waterguard components.
For systems with Waterguard ball valves:
1. Dry any water spill from the sensors
2. Check the position indicator on the valve(s ). Is it set to OPEN or CLOSED?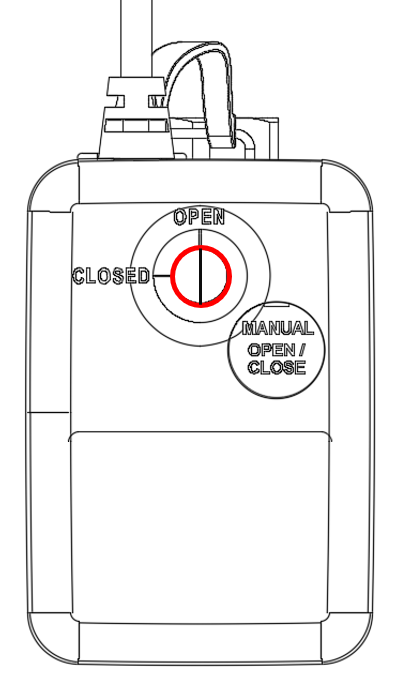 The position indicator shows the valve position at all times.
3. If the indicator shows CLOSED and the water is still running, check if the actuator is properly installed on the valve and that the security pin is fixed. See this article for details.
4. If indicator shows OPEN, check physical connections on the Cat6-cable between the valve actuator and the Linkbox+. Ensure the cable(s ) is properly connected.
5. Try to trigger a new alarm by add moisture to one of the sensors. If the valve still won't close the water, contact Waterguard for assistance