Linkbox+
Full installation and user manual for Linkbox+ is available here (Abra self-service portal).
.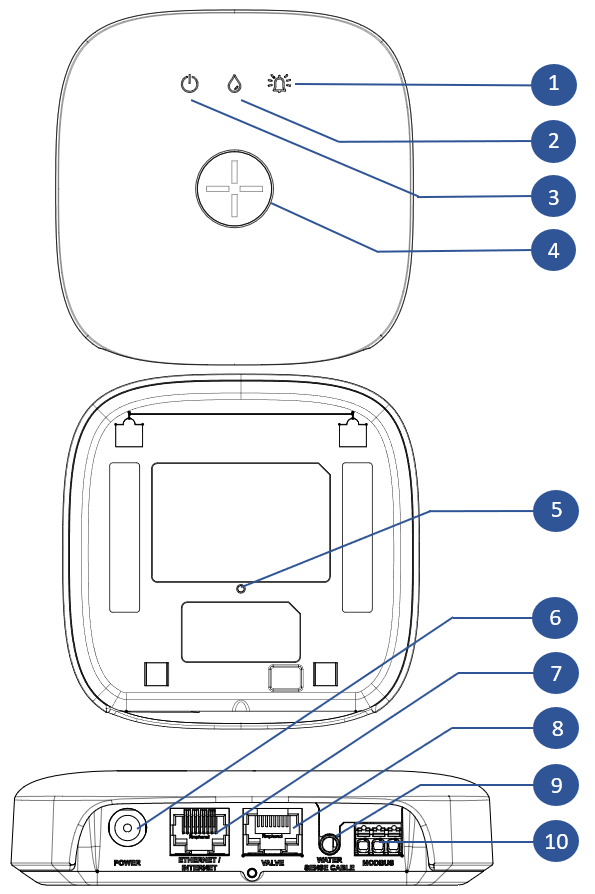 ID
Function
Description
1
Bell symbol (LED)

Status-LED for other alarms than waterleakage. See user manual for details

2
Vanndråpesymbol (LED)
Status-LED for leakage alarm and sensor/valve connection status. See user manual for details
3
Strømsymbol (LED)
Status-LED for system/power. See user manual for details
4
Linkbox+button
The button is used to close/open valves, activate pairing mode, activate overridemode and to mute alarms.
5
Reset button
Factory Reset button (hold for >10 seconds)
6
Power connector Linkbox+
Connector for 230VAC-24VDC power adapter
7
Ethernet/Internet
RJ45 connector for wired internet connection or connection to external control systems
8
Valve control
RJ45 connector for valve connection (power and signals)
9
Sensor tape connector
3,5mm Jack connector for adding a sensor tape directly to the Linkbox+
10
Modbus connector*

Connector for integration of HVAC systems

*only available on Linkbox+ 4G
Motorized Ball Valve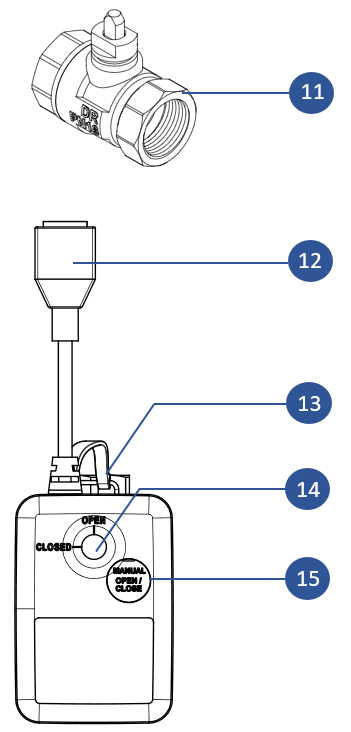 | | | |
| --- | --- | --- |
| ID | Function/Component | Description |
| 11 | Ball Valve | 1/2" or 3/4" ball valve |
| 12 | RJ45 connector | RJ45 connector for connecting the Linkbox+ with a standard Cat.6 cable. |
| 13 | Locking pin | A locking pin for securing the actuator on the valve |
| 14 | Position indicator | The position indicator shows the valve position at any time |
| 15 | Manual override | If the actuator is not powered, the valve can be manually controlled (using av Philips PH1 screwdriver or similar) |
Standard accessories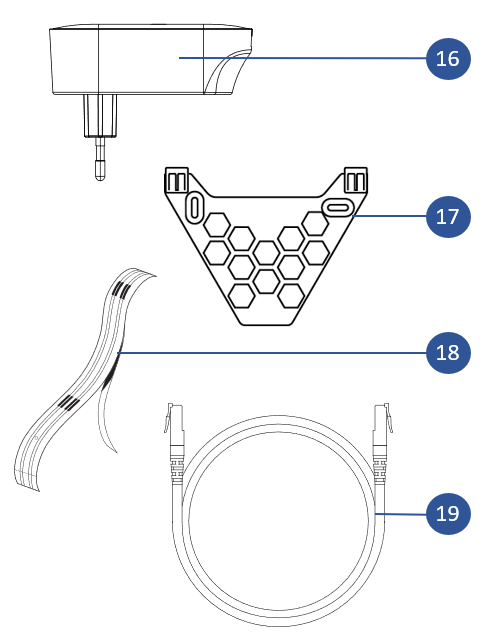 ID
Component
Description
16
Linkbox+ power adapter
230VAC-24VDC power adapter for Linkbox+
17
Wall mount bracket for Linkbox+
Standard wall mount bracket for Linkbox+
18
Sensor tape w/ 3.5 mm Jack plug
3 meter self-adhesive sensor tape with a 3,5mm Jack-plug for connecting the Linkbox+ or a WaterSensor+
19
Cat.6 cable

Cat.6 cable for connecting actuator to Linkbox+.

Standard length is 0,6 meter, but any Cat.6 cable up to 100 meter can be used.
WaterSensor+
See Installation and User Manual for WaterSensor+ for details.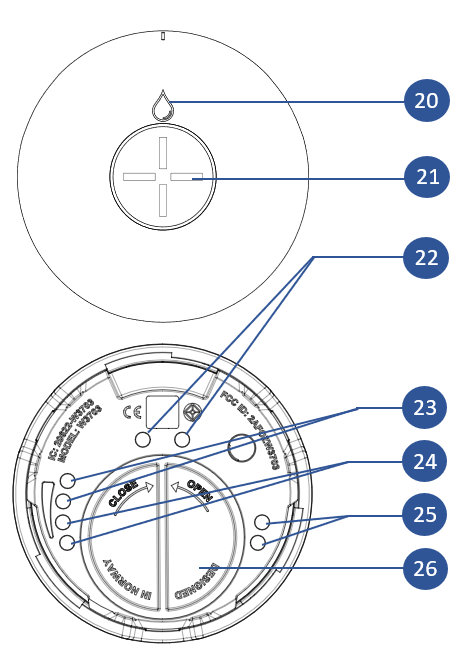 | | | |
| --- | --- | --- |
| ID | Function | Description |
| 20 | Water drop symbol (LED) | Status-LED for leakage system. Provides information about leakage alarms, pairing of sensors, tamper mode and other errors. See this article for details. |
| 21 | Sensor button | Button for initializing pairing mode and reset of sensor connection. |
| 22 | Power supply | Connectors for 230VAC-5VDC power adapter (requires Water Sensor Bracket) |
| 23 | Bracket connectors | Connectors for Water Sensor bracket |
| 24 | Leakage detection 1 | Probes for leakage detection. Alarm is triggered once the two probes are short-circuited. |
| 25 | Leakage detection 2 | Probes for leakage detection. Alarm is triggered once the two probes are short-circuited. |
| 26 | Battery | Battery housing (1 x CR2477 coin cell battery) |
Optional brackets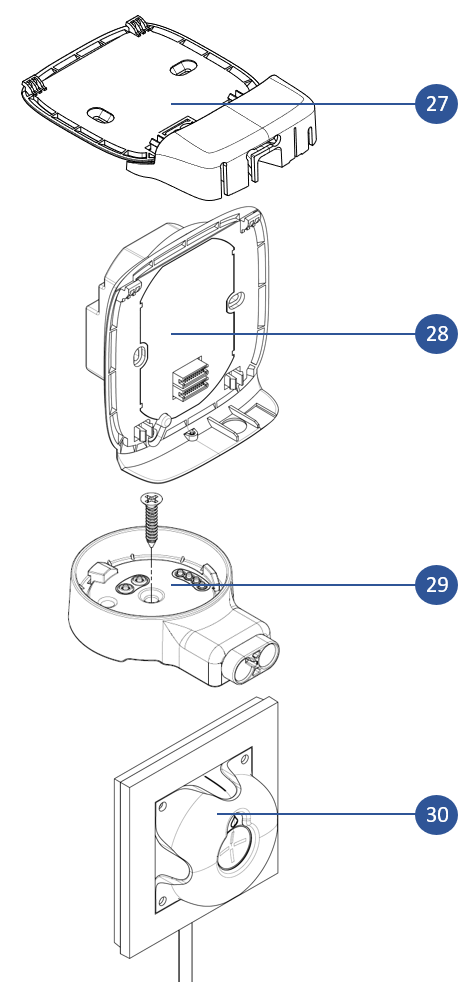 ID
Component
Description
27
Security bracket for Linkbox+

Optional wall mount bracket for Linkbox+ (incl. cover for protecting connectors)

(launch planned in 2024)

28
Docking for Linkbox+ (230V, 1,5 wallbox mount)

Optional wall mount docking bracket for Linkbox+ 4G using a 1.5 wall box (for hidden cables)

(launch planned in 2024)

29
Watersensor+ bracket
Standard bracket for WaterSensor+. Enables connection of sensor tape and/or 5VDC power adapter.
30
Docking for WaterSensor+

Optional wall mount docking bracket for WaterSensor+ using a standard wall box (for hidden cables)

(launch planned in 2024)
Other accessories