Keywords: WaterSensor+, wireless, sensor, water, temperature, humidity, water supply, WiMEA, Zigbee, Bluetooth, OTA, 5648875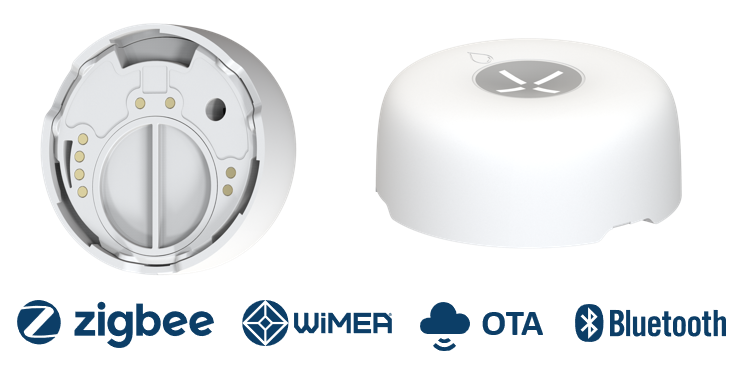 | | | |
| --- | --- | --- |
| Artikkelnummer | IN | NOBB |
| 72.380.337306 | 7072380373060 | 5648875 |
WaterSensor+ is a wireless sensor that detects the presence of water. The sensor also measures temperature and humidity and can warn in case of danger of frost. If water is detected, the sensor sends signals to the Linkbox+ that automatically shut off the water supply. A light and soundalarm is triggered both on the sensor and on the Linkbox+. In addition, users in the Abralife app are notified. The wireless water sensor is small and can be placed freely where the risk of leakage is greatest or where temperature and humidity are desired. The included battery has a lifespan of >5 years.
Watersensor+ can also be placed in a mounting bracket or a dock for concealed cable routing. The brackets make it possible to connect external power supply, as well as sensor tape for additional coverage area.
See the Waterguard+ Installation and User Manual for setup and usage information
WaterSensor+ supports WiMEA, Zigbee and Bluetooth, as well as over-the-air software updates.
Functional elements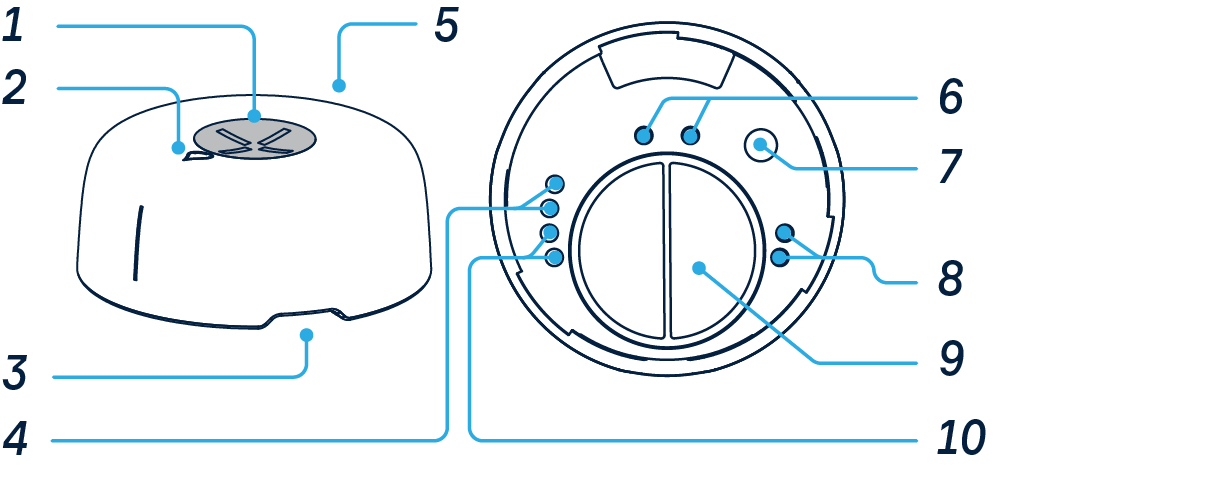 LED indicator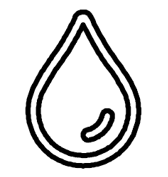 Button for interaction with WaterSensor+ (setting alarm, connection to Linkbox+, etc.)


LED indicator for device status and water detection status


Opening for water supply to sensor points for water detection


External bracket detection sensor points for connecting power and sensor tape


Buzzer for lydsignaler


External Power Supply Contact Point (5V DC)


Opening for measuring external temperature and for sensor tape


Sensorpunkter for vanndeteksjon #1


CR2477 battery cap


Sensorpunkter for vanndeteksjon #2
Connections


| | |
| --- | --- |
| INPUT/OUTPUT | TYPE CONTACT |
| 1x2 Kontaktpunkter +/- (for WaterSensor+ Bracket Power Adapter 5V DC) | 1 by gullbelagte kontaktpunkter |
| 1x2 Sensor Points for External Bracket Detection for Power and Sensor Tape Connection | 1 by gullbelagte kontaktpunkter |
| 2x2 Sensorpunkterfor vanndeteksjon #2 | 2 by gullbelagte kontaktpunkter |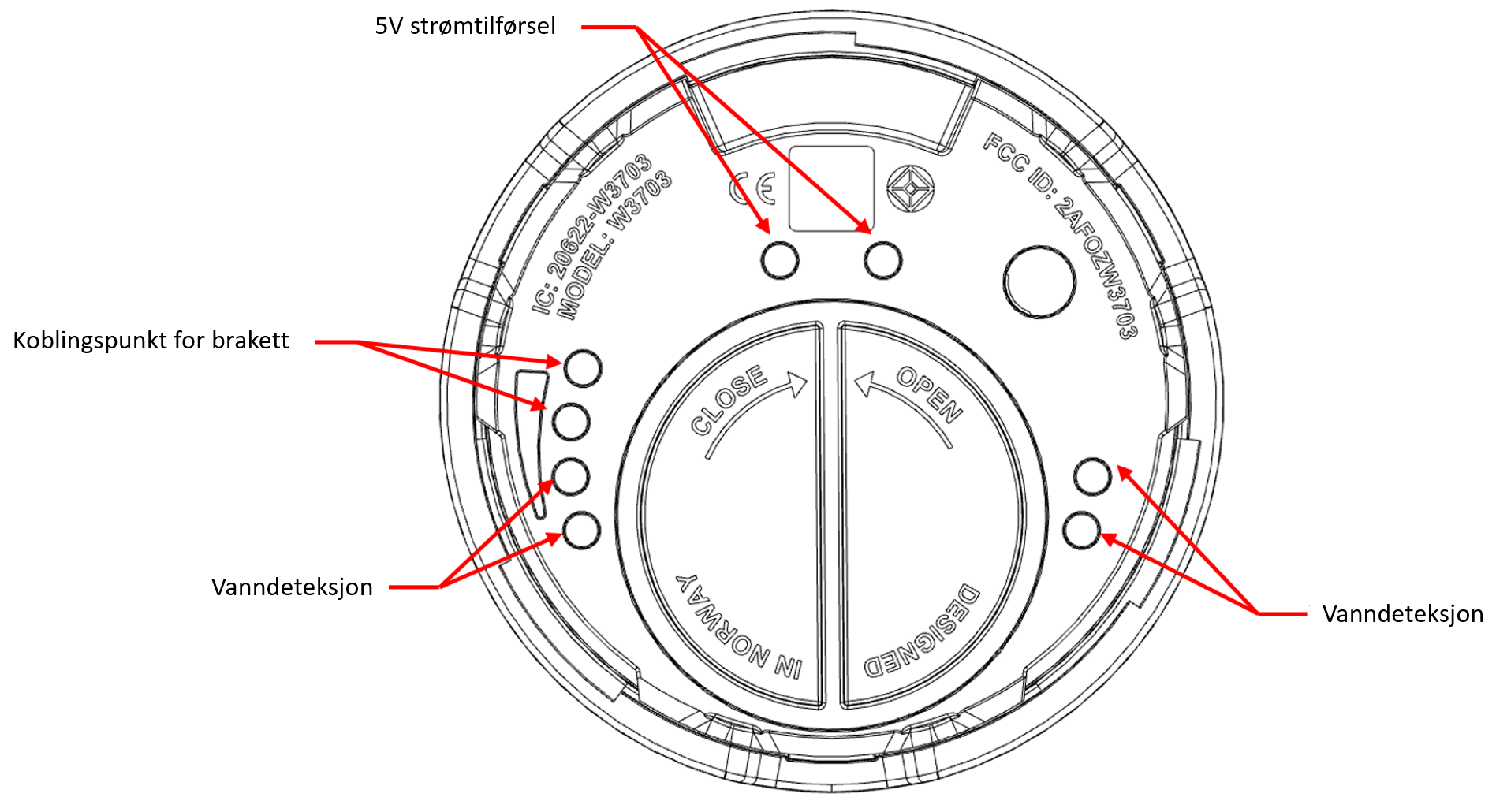 Functionality
WaterSensor+ is a wireless water sensor that communicates with Linkbox+ via WiMEA, a proprietary wireless protocol developed by for safety-critical communications between Linkbox+ and sensors developed by Abra.
Water detection: WaterSensor+ is capable of detecting even small amounts of water, triggering an alarm on Link. This feature is crucial for preventing water damage in your home by providing early warning of leaks from pipes, appliances or other sources.
Temperature measurement: WaterSensor+ continuously measures ambient temperature. This helps you keep track of the temperature conditions in your home and makes it possible to detect the risk of frost damage to water pipes and other installations.
Relative humidity (RH) measurement: WaterSensor+ measures the relative humidity (RH) where the unit is located. This is useful for monitoring the humidity level in your home. By keeping track of humidity, you can identify and address potential moisture-related issues before they escalate.
Sensors
| | |
| --- | --- |
| Fuktregistrering | 0-100% (+/- 2%) |
| Temperature | –10 to 70 °C (+/- 0.2 °C) |
| Vannsensorer | 2 by gullbelagte sensorpunkter |
Operating system

WaterSensor+ runs the AbraOS operating system, a proprietary Real Time Operating System (RTOS) that runs in real time. The AbraOS operating system is designed for use in security-critical functions, and to be immune to viruses and cyberattacks, providing an extra layer of security for your smart home.
Abra OS automatically updates over-the-air (OTA) if WaterSensor+ is connected to Linkbox+ via WiMEA or from mobile phone over Bluetooth. This ensures that the latest version of the operating system is always installed and that you always have access to the latest features and security enhancements. The update process takes only a few minutes and is completed at times when critical features are not in use.
Abralife mobilapp
The Abralife app enables residents to set up, monitor and control their home. With the app, you can, among other things, read the temperature and humidity, open and shut off the water supply, as well as receive push notifications in case of triggered alarm or other error situations - no matter where you are.
The Abralife app displays the connection status, alarm status, temperature and humidity of the WaterSensor+.
The Abralife app is available for Android in Google Play and for iOS in the App Store.

Compatibility and additional equipment
WaterSensor+ is compatible with both Linkbox+ 4G and Linkbox+ WiFi
Optional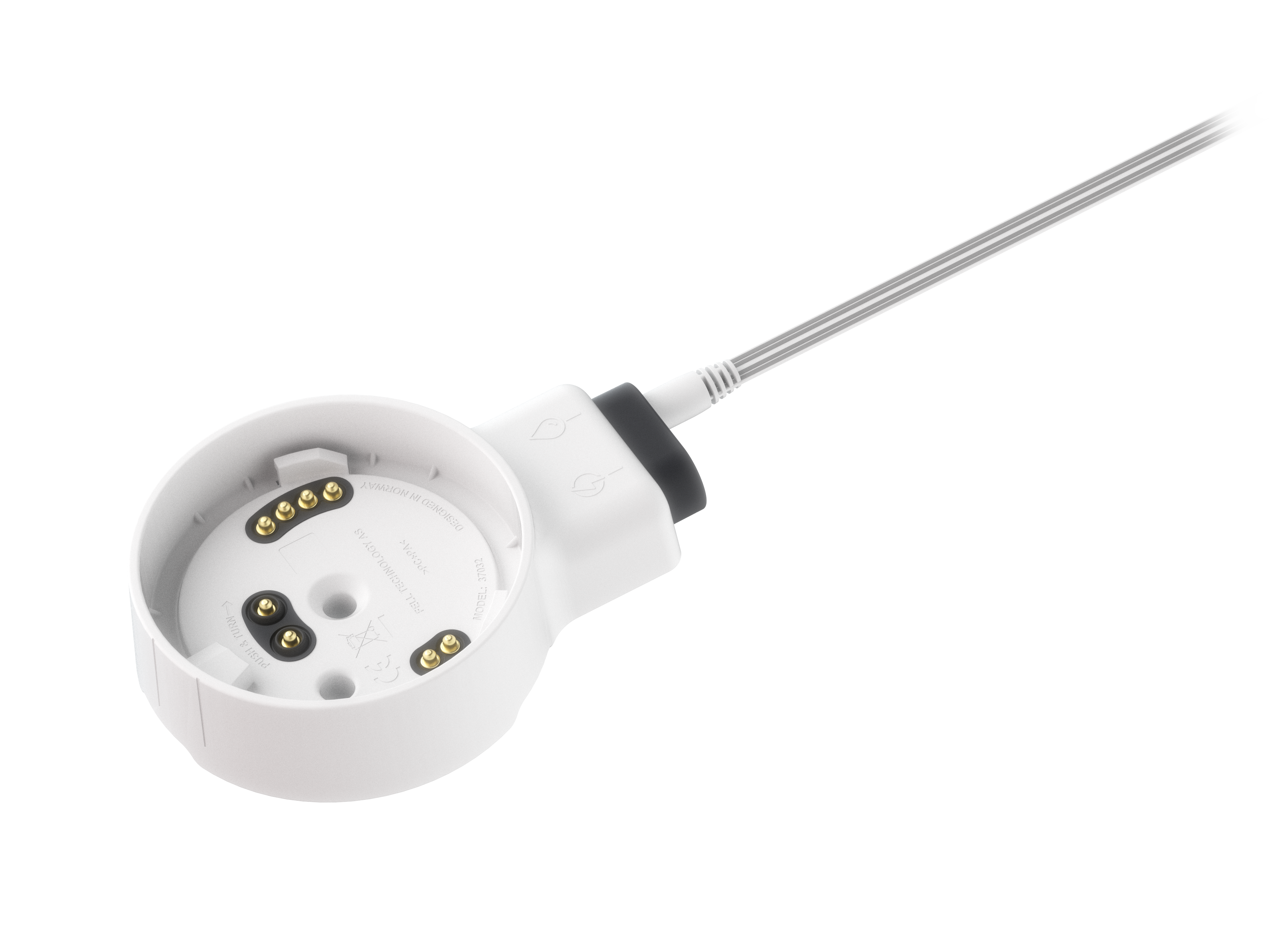 WaterSensor+ Cover


BILDE OG LINK
Communication
WaterSensor+ supports the following communication protocols:
| | |
| --- | --- |
| WiMEA | 915 MHz FCC (US/CAN), 868 MHz RED (EU) |
| Bluetooth | 2.4 GHz |
| Zigbee | 2.4 GHz |
Dimensions
The compact design of the Linkbox+ makes the product easy to install and integrate into your home.
| | | |
| --- | --- | --- |
| PRODUCT | HxWxD (mm) | Weight(g) |
| WaterSensor+ | Ø55 x 22 mm | 40 g |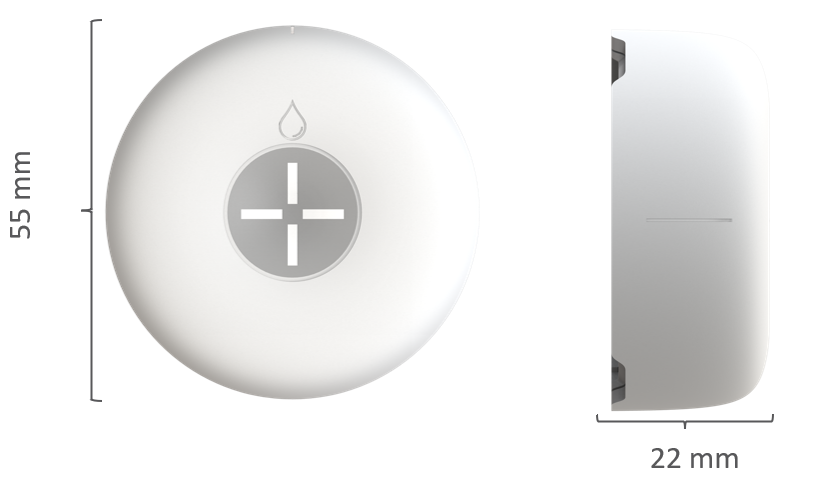 Colors
WaterSensor+ comes in a neutral white colour, which makes the product aesthetically pleasing and easy to blend with your home décor.
Power supply
WaterSensor+ uses a CR3 2477V battery.
If WaterSensor+ is mounted in the WaterSensor+ Braket, a 5V DC power adapter can also be used for permanent power connection.
Installation
Guidelines for choosing the optimal location
WaterSensor+ can be wall-mounted using included brackets. Alternatively, the product can lie flat on a suitable surface without the use of fixing brackets.
Reduce disruption: Keep WaterSensor+ away from electronic devices that might interfere with signals, such as microwave ovens or cordless phones. We recommend > 1 m distance to mentioned or similar equipment that transmits or receives high-frequency radio signals.

Check signal strength: Look for locations with good cellular signal strength to ensure reliable 4G connectivity.
WaterSensor+ standalone installation
Place WaterSensor+ in locations where there is a risk of water leaks.
This is typically behind a washing machine, in kitchen cabinets or behind a dishwasher.
Water sensor installation with WaterSensor+ Bracket
Please refer to the installation guide in the WaterSensor+ Bracket product manual for a detailed description of the installation, as well as in the general Waterguard+ installation and user manual.
Installation of water sensor with WaterSensor+ Cover
Please refer to the installation guide in the WaterSensor+ Cover product manual for a detailed description of the installation, as well as in the general Waterguard+ installation and user manual.
Setup and configuration
Setting up WaterSensor+ is easy with the Abralife mobile app, which offers a step-by-step guide to configuration.
Use of the product
Pairing device to WaterSensor+
Click here for guidance on how to add devices via the Abralife app.
To connect wireless devices using the button on the front of the Linkbox+, follow the procedure below, or as described in this article.


OBS!
The Linkbox+ must be connected to power before the procedure is carried out.
The signal strength is often weaker during interconnection than in normal operation. It is therefore recommended that wireless devices are near the Linkbox+ during connection (before being deployed in the home).
Briefly press (<1 second) the Linkbox+ button to activate connection mode. Connection mode is indicated by the status symbol on the Linkbox+ pulsing

with BLUE

light.





Enable connection mode on the wireless device to be connected to the Linkbox+. Follow the instructions in the Abralife app or the manufacturer's instructions. If you are unsure whether your device is supported by Abra, we recommend following the instructions for using the Abralife app.

Press and hold the button on that WaterSensor+ for > 1 second to initiate automatic connection to the Linkbox+. The droplet symbol of the sensor blinks

rapidly BLUE.

The devices will now connect.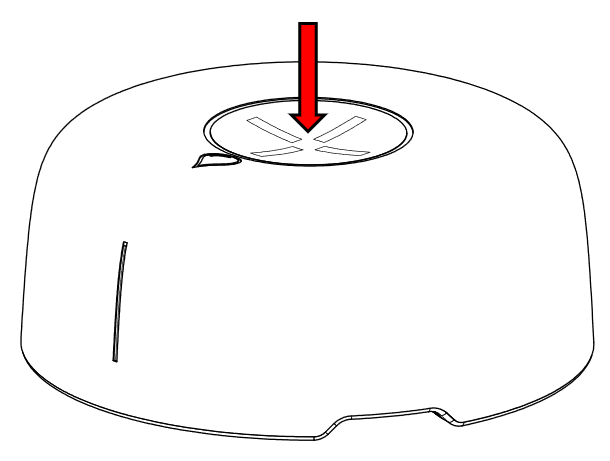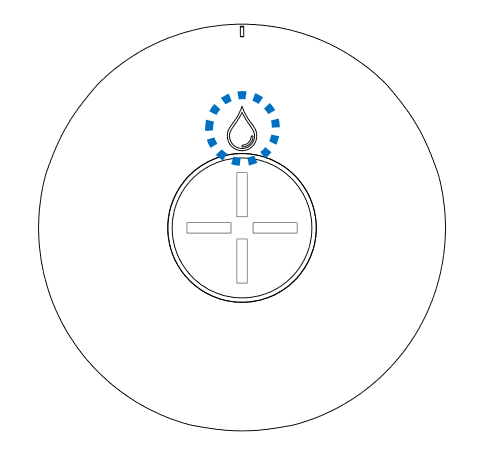 3. Successful pairing is indicated by 3x beep and 3x GREEN flashes in the status LED. Repeat the procedure for each new device to be paired.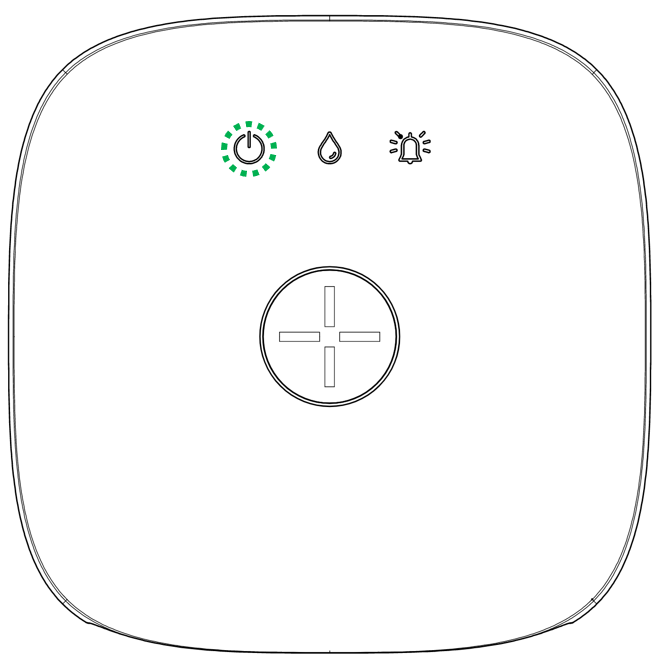 Funksjonstest
NB! Do not apply large amounts of water to the sensor when it is held upside down. The sealing mechanism requires the sensor probes to point downwards.
Open a water tap and let the water run (e.g. kitchen sink)
With a wet cloth, etc., moisten the sensor points on the wireless sensor:

If the sensor is mounted in a bracket with sensor tape, one of the sensor points on the connected sensor tape is moistened.
If the sensor is mounted in a bracket without sensor tape, one of the two pairs of sensor probes is moistened on the back of the bracket
If the sensor is placed loosely without a bracket, one of the two pairs of sensor probes is wetted on the underside of the sensor (see picture below)


Ensure that:

The valve(s) close automatically
The water stops flowing
Linkbox+ emits audio signal
The water drop symbol on Linkbox+ glows

red

The current wireless sensor emits an audible signal
The water drop symbol on the current wireless sensor flashes

red

User receives push notification on mobile phone (from Abralife app)

Briefly press the Linkbox+ button (<1 second) to mute the alarm signal
Wipe the sensor point gently. Make sure it is completely dry
Press and hold the button on the Linkbox+ to reset the system and open the valve(s)
Ensure that:

The valve(s) open automatically
The water begins to flow
The audio signal from the Linkbox+ and the current wireless sensor stops
The water drop symbol on the Linkbox+ and the current wireless sensor glow

green

User receives push notification on mobile phone (from Abralife app)

Repeat the test for each installed wireless sensor
Notifications, indications and signals
The light signals in the symbols on WaterSensor+ indicate the condition of the device or report on events such as connection status and alarms, in combination with audio signals.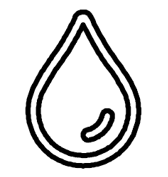 The list below indicates the key statuses indicated by Linkbox+ and what these mean.
| Light | Sound | Status | Informasjon |
| --- | --- | --- | --- |
| | | | |
| | | | |
| Green flashing lights | - | Alt OK | No water leakage detected |
| Three green flashes | 3x Long Pip | Connection to wireless device successfully | The device is now part of the system |
| Yellow double flash | 2x short pip | Wireless device connection failed | Try connecting again. Make sure your device is near your Linkbox+ |
| Red pulsing | Continuous beeping | Water leakage, alarm activated | Immediate action needed |
States and modes
WaterSensor+ has the following states and modes:
Normal mode - no friend alarm
Water leak detected, alarm goes off
Settings
Settings can be customized through the Abralife mobile app, allowing you to tailor the device to your needs.
Specifications
General -
WaterSensor+
IP grad

IP44

Resistance to shocks

IK06

Brannsikringsgrad

IEC 60950 1&22, CE-UL94

Power adapter input

100-240 V AC / 50/60 Hz, 0.6 A max.

Bacteria

CR2477 knappecellebatteri

Power supply

5V DC (using AC adapter)

Driftstemperatur

0°C to 40°C (40°C to 104°F)

Relative humidity

0% - 100% (non-condensing)

Materialgodkjenning

RoHS (2002/95/EC)
REACH

Produktgodkjenning

CE/RED, FCC Part 15, Zigbee

Colour

White
For your safety
WaterSensor+ is designed with safety in focus and uses 5V DC power supply. Despite the low voltage, we ask that you pay attention to the dangers of electrical products and follow the instructions below.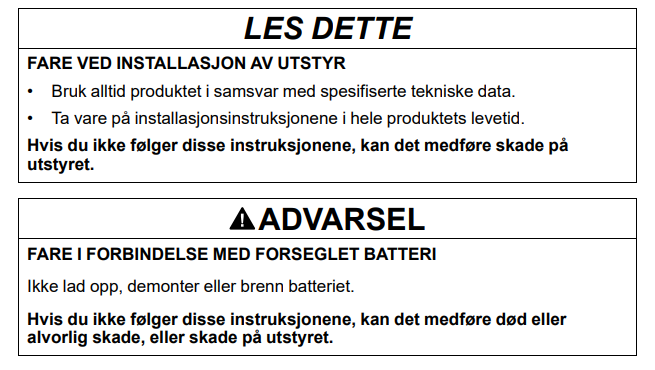 The system must only be used in good condition and in accordance with. Installation and use instructions in this manual.
Abra accepts no liability for damage caused by non-compliance with the instructions.
Genuine components, accessories and spare parts must be used for proper and safe operation of the system. Improper use or non-genuine components may result in reduction or termination of the product's warranty provisions.
The system must only be installed in a dry and frost-free environment.
The system is built on a 24 volt low voltage system. This provides peace of mind for the users of the system and does not require a licensed electrician for installation.
Avoid hazards or reduced functionality by checking cables for damage. Visible damaged cables must be replaced. Contact us for dividends.
Requirements related to the power grid and the system's surroundings
The system requires 220-240V AC power supply
The Linkbox+ and its power adapters are intended for indoor and dry environments only.
Do not spray connection points directly or indirectly with water or other means during cleaning
Maintenance, cleaning and transportation
Maintenance
The product does not require ongoing maintenance, with the exception of cleaning. See the section below.
Cleaning
To clean your Linkbox+, you can wipe it with a soft cloth moistened with mild detergent. Avoid using abrasive cleaners or chemical solvents that contain oil or alcohol, as this can discolor the plastic. Use another soft, dry cloth to wipe it dry.
Transport
The Linkbox+ should always be transported in its original packaging. If the packaging should fall or be affected in any other way, a visual inspection should be performed to confirm possible damage to the product.
Storage
To preserve the packaging and contents, we recommend storage in a temperate, dry and well-ventilated area. Relative humidity should not exceed 80%, and corrosive gases should not be present. Storage or transport environments must never exceed the limits stated in the Linkbox+ Technical Specifications.
Disposal
Electronic equipment such as Linkbox+ should not be disposed of in household waste, as indicated by the waste bin on the back of the product. Broken units can be disposed of for recycling at waste stations in your area. Follow local rules for proper and environmentally friendly disposal.
If the old electronic equipment contains personal data, you are responsible for deleting it yourself before returning it. The item shall be delivered for recycling in accordance with local environmental regulations for waste disposal. By separating a branded item from household waste, you will help reduce the volume of waste sent to incinerators or landfills and minimize any potentially negative impacts on human health and the environment.
Troubleshooting
Solutions to common problems or errors
The user manual provides detailed solutions to common problems you may encounter.
Restoring factory settings
Press a pin into the RESET pin hole on the back of your Linkbox+ and press the reset button while holding down the main button on your Linkbox+ for 10 seconds.
Remove device from Abralife app
Removing the device from the Abralife app is a simple process and can be done in a few steps:
From the home screen, press Menu --> Home --> Central Units (Linkbox+) --> Select the Linkbox+ to remove --> Tap the trash can symbol in the upper left corner and confirm.
Sertifiseringer
Linkbox+ compliance statement for CE marking and sales within the EU/EEA
Model Number: W3703
Product Name: Waterguard+ WaterSensor Marketed as: Waterguard+ WaterSensor
Waterguard+ WaterSensor has been developed by Abra's sister company, Fell Technology AS, which has declared under its sole responsibility that the above product complies with the essential requirements of the following directives from the European Union:
Radio Equipment Directive (RED) – 2014/53/EU
Low Voltage Directive – 2014/35/EU
RoHS Directive – 2011/65/EU, EU 2015/863
Harmonised standards and normative documents
The following harmonised standards and normative documents are those to which the conformity of the product has been declared, and by specific reference to the essential requirements of the referred directives:
Health & Safety (Article 3.1(a) of RED):
EN 60950-1:2006 + A11:2009 + A1:2010 + A12:2011 + A2:2013
IN 62368-1: 2014/A11:2017
IN 62311: 2008
EMC (Article 3.1(b) of RED):
EN 301 489-1 v2.2.0
EN 301 489-17 v3.2.0
EN 55032:2015 + AC:2016
IN 55024:2010
IN 61000-3-2:2014
IN 61000-3-3:2013
Spectrum (Article 3.2 of RED):
EN 300 328 v2.1.1
EN 301 893 v2.1.1
RoHS Directive, 2011/65/EU:
WaterSensor+ compliance statement for FCC/IC marking and sales in the U.S. and Canada
This device complies with FCC RF radiation exposure limits set forth for an uncontrolled environment. The antenna used for this transmitter must be installed to provide a separation distance of at least 20 cm from all persons and must not be co located or operating in conjunction with any other
antenna or transmitter.

Radiation Exposure Statement
This equipment complies with IC radiation exposure limits set forth for an uncontrolled environment. This equipment should be installed and operated with a minimum distance of 20 cm between the radiator and your body.

This device complies with Industry Canada license-exempt RSS standard(s). Operation is subject to the following two conditions: (1) this device may not cause interference, and (2) this device must accept any interference, including interference that may cause undesired operation of the device.

Radiation Exposure Statement: Radiation Exposure Statement: This equipment complies with IC radiation exposure limits established for an uncontrolled environment. This
equipment should be installed and used with a minimum distance of 20 cm between the radiation source and your body.

This device complies with Industry Canada's RSS for licence-exempt radio apparatus. Operation is permitted under the following two conditions: (1) the device must not cause interference, and (2) the user of the device must accept any radio frequency interference experienced, even if the interference is likely to compromise the operation of the device.
Typegodkjenning - Sintef TG
WaterSensor+ is included in type approval for use with Waterguard valves and accessories. The product has been tested together with sensors for leak detection and valves for water shutoff, and approved in accordance with. SINTEF TG 20834.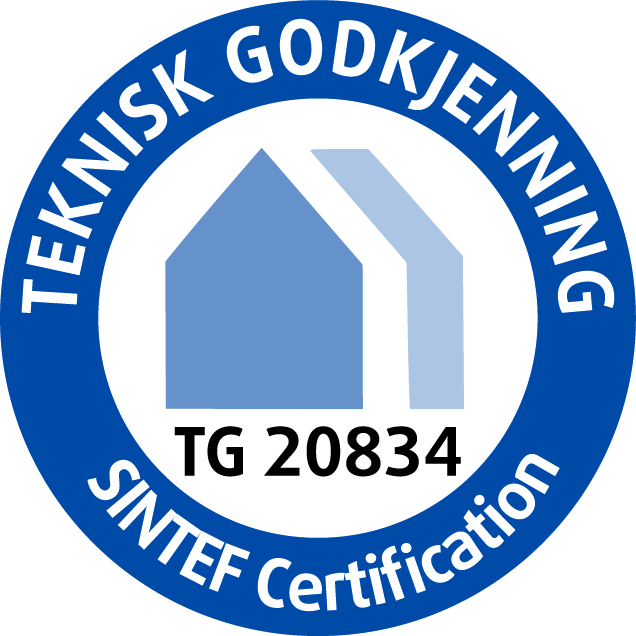 Warranty and service
WaterSensor+ and its accessories are free from material defects and are designed in accordance with consumer protection laws and regulations of the country in which the product is purchased. All properly installed Linkbox+ hardware is covered by our 5-year limited warranty*.
If your WaterSensor+ needs repair within the warranty period, please contact Abra customer support. Further information can be found on https://support.abralife.com/
*Some countries and/or registered products may have extended warranties."
By registering your Linkbox+ and associated WaterSensor+ in the Abralife app, you as a customer get a 10-year extended warranty on the product. The warranty starts from the time of purchase or the time of takeover of the system if delivered in a new build.
To register Linkbox+; scan the QR code on the front of your Linkbox+ and follow the link. This will take you directly to the download and installation of the Abralife app, as well as setup, registration, and configuration of Linkbox+ in your home.

For questions related to the use of the system or the need for service, see Abralife customer support, write to us on support@abralife.com or call customer support at +47 23 96 02 51.
Frequently Asked Questions (FAQs)
What does it mean when the Device status LED is blinking green?
This indicates that everything is fine with WaterSensor+.
Why does the Enhetsstatus LED pulse in green?
The device status LED pulses when the Linkbox+ is plugged in but lacks connectivity to the Abra Cloud. Check your internet connection.
What do I do if I get a water leak alarm?
The water protection LED will blink red. Check the app to identify which sensor triggered the alarm. Set an alarm by pressing either WaterSensor+ or Linkbox+
Legal information
Brands
Abra is a registered trademark with Fell Technology AS.
Apple and the Apple logo are trademarks of Apple Inc., registered in the U.S. and other countries.
Google Play and the Google Play logo are trademarks of Google LLC.
License Rights and Restrictions
NO RIGHTS OR LICENSES, EXPRESS OR IMPLIED, ARE GRANTED TO USE THIRD-PARTY DEVICES IN COMBINATION WITH THESE PRODUCTS IN A WIRED OR WIRELESS NETWORK, OR TO USE THIRD-PARTY SERVICES TO ACCESS, MONITOR, OR CONTROL THESE PRODUCTS ON A WIRED OR WIRELESS NETWORK OVER THE INTERNET OR OTHER NETWORK.
Producer
Fell Technology AS
Bragernes Torg 2
NO-3017 Drammen
Norway