MANUAL WATER STOPPER WITH CONTROL PANEL
System for manually shutting off the water supply. The control panel communicates wirelessly with the Valve actuator that activates the Solenoid Valve. A simple version of Smart Stop, however, you get the same functionality as with Smart Stop if you add wireless sensors.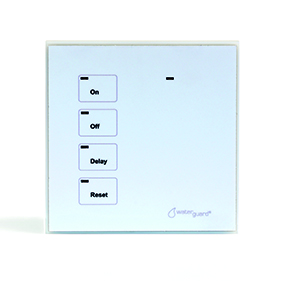 APPLICATION AREA
Quick Stop is used in private home, vacation homes and commercial buildings.
Measures
HxWxD (mm)
Weight (g)

Solenoid Valve

WTG-36C
111 x 47 x 31
300
Control panel WTG-38A
86 x 86 x 10
56
CONNECTIVITY
Can be complemented with wireless sensors
1 sensor input for sensor wire
230V outlet for external equipment max. power consumption 10A / 2,3kW
Power supply – hidden junction box, Europlug
PACKAGE CONTENT
| | |
| --- | --- |
| Valve controller WTG-36C (wireless system) | Art.no. 5648323 |
| Control panel/Central unit WTG-38A | Art.no. 5648329 |
| Power supply – hidden junction box | Art.no. 5648325 |
| Power supply – pluggable, Europlug. | Art.no. 5648326 |
| Solenoid valve(s) in various dimensions | |
PRODUCT RANGE
| | |
| --- | --- |
| Quick Stop 1/2" | Art.no. 5648351 |
| Quick Stop 3/4" | Art.no. 5648245* |
| Quick Stop 1" | Art.no. 5648583 |
| Quick Stop 1 1/4" | Art.no. 5648584 |
| Quick Stop 1 1/2" | Art.no. 5648585 |
| Quick Stop 2" | Art.no. 5648586 |
| Quick Stop without valve | Art.no. 5648587 |
* Replaces «NRL-Stoppen», Art.no. 5648219
COMPLEMENTARY PRODUCTS
| | |
| --- | --- |
| Remote Interface WTG-35A | Art.no. 5648249 |
| Wireless sensor, WG Smart system | Art.no. 5648275 |
| Joint piece for sensortape | Art.no. 5648327 |
| Valve control WTG-36C (wireless systems) | Art.no. 5648323 |
| Valve(s) in various dimensions | |